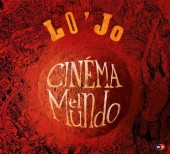 Arist: Lo' Jo
Title: Cinema El Mundo
Label: World Village
Genre: French avant pop/ world
The CD begins with jungle sounds, and a poem (in French, which unfortunately, I don't understand) by singer / keyboardist / band leader Denis Péan. This led into the second track; a soft, lilting ballad with memorable melodies, seductive backing vocals, and Péan singing / reciting his story.
Lo Jo's latest release, Cinema el Mundo is a multi-faceted recording marking their 30 year existence as a group, and proving their creative wellspring is far form dry. Péan is joined by his longtime partner Richard Bourreau (violin / kora), Kham Meslien (bass), Baptiste Brondy (drums), and the Nid el Mourid sisters Yamina and Nadia (vocals), Cinema El Mundo guest artists include Menwar, Gan Guo, Andra Kouyate, Vincent Segal, Stephane Coutable, Ibrahim Ag Alhabib and Eyadou, Niaz Diasamidze and Robert Wyatt.