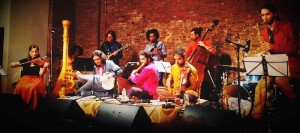 "Beautiful and heart rendering beyond description." – DBDBD NY Roots Music and Culture Magazine
In celebration of John Coltrane's 90th birthday, the dynamic and hugely popular Brooklyn Raga Massive (BRM: Coltrane Raga Tribute), a collective of forward thinking musicians rooted in and inspired by the classical music of India, pay tribute to his legacy through their interpretation of his music. John Coltrane remains a pivotal force in the styles of modal jazz, avant-garde jazz, hard-bop and world music. Through his truly unique music, Coltrane bridged seemingly disparate cultures the way only few figures in modern music ever did. With records like Om and songs like India, Coltrane and his legacy have led a movement towards bringing Indian music influences closer to the world of Jazz music. For this performance Brooklyn Raga Massive will be joined by special guest, the highly revered post-bop jazz pianist Marc Cary.
This concert is presented as part of World Music Institute's Global/Local Series.