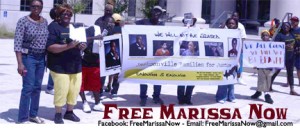 Text by Free Marissa Now Mobilization Campaign
Words cannot express the relief and joy of everyone in the Free Marissa Now Mobilization Campaign that Marissa Alexander is home with her family this Thanksgiving Day. Ms. Alexander has been released on bond until a verdict is reached in her new trial that begins March 31, 2014.  We hope the decision means that the Florida justice system has relented in its vindictive, hostile and racist legal assault on this African American mother of three. Ms. Alexander has been victimized twice — once by her abusive ex-husband and again by the state of Florida, which has stolen nearly three years from her life for an act of self-defense that injured no one.
We are thrilled that Ms. Alexander will be able to prepare for her new trial amid the support and love of her children and family from whom she has been separated far too long.