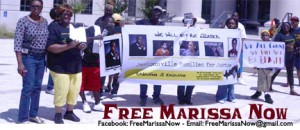 Date:     July 23, 2014
From:    Aleta Alston-Toure' — 904-631-6019
Alisa Bierria — 650-799-7741
For Release: Immediately….Notice to the Media

Free Marissa Now and thousands of Marissa Alexander's supporters around the world are strongly disappointed that the Florida courts on July 18 denied Marissa a fair hearing to support her right to self-defense under Florida's Stand Your Ground laws. Yet again, Florida refuses to free this survivor of domestic violence and undermines women's right to self defense, though it failed to convict two white men for the murder of two innocent black teen boys. It appears that Florida courts place less value on a young black mother's fear in the midst of a life-threatening attack and more value on the anger and unsupported fear of two white men.
Nine days after a premature birth, Marissa Alexander harmed no one when she fired a warning shot to stop another life-threatening attack by her estranged husband. She faces possibly sixty years in prison as a result of prosecution by the state of Florida. Is Marissa being used as an example?
Incarceration happens more frequently when black people are convicted of crimes, but women of color who are victims of domestic violence serve more time for self-defense. Female incarceration rates show 78% of inmates are Black and Latina and most women in prison have been victims of abuse. This should not happen to anyone. Mass incarceration of women is a lucrative business at the stake of women's lives and the well-being of families.