Jun
20
Wed
Arturo O'Farrill & the Afro Latin Jazz Orchestra: 2018 ALJA Annual Fundraiser

@ Highline Ballroom
Jun 20 @ 7:30 pm – 8:30 pm
Featuring Arturo O'Farrill & the Afro Latin Jazz Orchestra w. special guests Fat Afro Latin Jazz Cats…A Night of Mambo! in New York
For one night only, join us for this classic New York-style big band Latin dance party with Arturo O'Farrill and the Afro Latin Jazz Orchestra, joined by guest vocalists Sammy González Jr., Cuban singer Iván Llanes, musical group Descarga POE (People-of-Earth) and other special guests, in a special night of mambo, the legendary dance style originally from Cuba.
Five time GRAMMY-Award winning Arturo O'Farrill and the 18-piece Afro Latin Jazz Orchestra (ALJO), fresh off their California tour and a bi-coastal, cross border recording project, return to NYC in style with an evening of mambo-inspired Latin music to spark up the dance floor of the Highline Ballroom in Manhattan.
Warming up for the ALJO is Descarga POE, a scintillating offering of hip shaking infectious grooves from Cuba, Puerto Rico and beyond. POE (People of Earth) is a collective of some of the top young NYC based musicians whose origins span three continents, and most of whom are also teaching artists in ALJA's music education programs.
The evening will open with performances from ALJA's youth big band ensemble, the Fat Afro Latin Jazz Cats, who will have the chance to display their chops on the Highline stage as they prepare for their upcoming trip to Cuba at the end of the month. Proceeds from the night's festivities will go to supporting the Fat Cats programs as well as ALJA's Music Education Programs in the New York City public schools.
Jul
14
Sat
TAIKOZA – Summer Concert Series in NYC Parks

@ Jackie Robinson Park
Jul 14 @ 6:00 pm – 9:00 pm
Taikoza has created a new sound using the thunderous rhythms of the ancestral Taiko drums and the magical sounds of the bamboo flutes. Roughly translated, Taiko means big drums-and that's exactly what Taikoza brings. Big Drums, powerful rhythms, and electrifying, room-thumping energy. This exciting group draws from Japan's rich tradition of music and performance to create a highly visual performance featuring 3-foot drums and 200 lb. drums.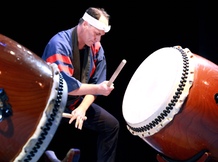 Musical Director: Marco Lienhard
About Taikoza: Taikoza was formed in New York City by members of Ondekoza (the group that started the renaissance of taiko in Japan in the 60s and introduced Taiko to the world). The members of Taikoza have performed in some of the most prestigious halls and locations such as Carnegie Hall, Boston Symphony Hall, Suntory Hall, Moscow's Tchaikovsky Hall and House of Music, Osaka Festival Hall, Lincoln Center, Mount Fuji, Miyajima Temple in Hiroshima, Peace Memorial Hall in Hiroshima and many others. They have performed in Russia, Italy, Brazil, Argentina, Switzerland, Germany, France, Mexico, Belarus, Republic of Georgia, and many more.
For more information: Taikoza.com or Taikoza@gmail.com
For More Summer Concerts in  NYC Parks
6/2 Isham Park, Inwood in N Manhattan at 6PM
6/9 Bruce's Garden Isham Park, Inwood in N Manhattan- East Winds Ensemble at 6 PM
7/14 Highbridge Park  in Washington heights with Taikoza