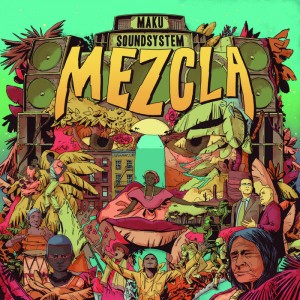 Artist: M.A.K.U. SoundSystem
Title: Mezcla
Label: Glitterbeat Records (Germany)
Genre: Cumbia/Afro Beat/Club
Review by Dawoud Kringle
The self described "immigrant band from New York City" M.A.K.U. SoundSystem has released a new album; Mezcla. The members are Liliana Conde (vocals, percussion), Juan Ospina A.K.A Prodigio Arribetiao (vocals, bass), Camilo Rodriguez (guitar, gaitas), Robert Stringer (trombone), Felipe Quiroz (synthesizers), Moris Cañate (tambor alegre), Andres Jimenez (drums), and Isaiah Richardson Jr. (sax, clarinet). Since their beginning in 2010 M.A.K.U. has released two albums, an EP, and toured the U.S.
Their sound has been described in the press as "frantic," "driving," and "raw-edged." However, these adjectives somehow don't do their music justice.
The CD's first track, "Agua" comes out swinging, smacks you in the face, and dances for dear life. The Afropop feel is clearly a dominant force of this music. They are like Angelique Kidjo fronting Fela Kuti's ensemble (circa 1990) after they'd spent many weeks listening to South American music and early Santana records. The track eases off on its accelerator into a gentle ending.
While the tracks are clearly all cut from the same cloth, there is an amazing variety of moods and musical devices woven into the collection. "Positivo," for example, makes effortless use of some rhythmic devices that draw the listener into a hypnotic groove, then slingshots them into an almost uncharacteristic seriousness. On "La Inevitable," they season their music with shades of Kid Creole and the Coconuts, while at the same time, keeping their Afropop / Latin roots very much in the forefront.
(A strange thing happened to me when I was writing this review. I was listening to "La Haitiana." I live down the street from a fire station, and suddenly, a fire truck sounded its alarm as it sped off to tend to a fire. The sound of the fire alarm mixed perfectly with this song in its phrasing. It was even in the same key! But I digress)
The entire CD is a mad, joyful party. The masterful percussion, tight arrangements, impressive musicianship, and beautiful interplay with the melodic content of the songs makes this a masterfully executed magical spell to make the listener dance, and have a good time—and at times, think and feel quite deeply.
In the midst of this impossibly enjoyable and moving dance propulsion, the lyrics reach out through the party atmosphere and embrace you with a root of social consciousness. In the lyrics you will find no brainless chanting to induce an endless party (although "Happy Hour" does seem to live up to its name). You will find simple, yet sublime exhortations to ideas of peace, positiveness, and mutual love and respect for all humanity.
M.A.K.U. SoundSystem may make "party" music; but there is something more going on here. They are fun and carefree, and at the same time as serious as life itself.
Related Post