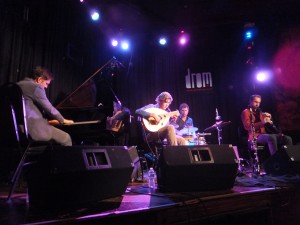 Date: September 19, 2013
Venue: Drom (NY)
Review by Dawoud Kringle, photo by Sohrab Saadat Ladjevardi

A lush and joyful tapestry of sound filled the air. A melody of sweetness from the clarinet rose above it. Thus began Arifa's performance at Drom. They're presently on tour, and this was one of two performances in NYC; the other being at the Kennedy Center.
So, you may be asking, "Who are Arifa?"
Arifa is Alex Simu (Romania- Sax, Clarinet & Laptop), Mehmet Polat (Turkey – Ud), Franz von Chossy (Germany – Piano), and Sjahin During (Turkey/Holland – Afro Anatolian Percussion). They blend ancient musical traditions from the Middle East and Balkans with jazz, modern improvisation, and electronics. Their two CDs, Beyond Babylon and Anatolian Alchemy'are highly acclaimed internationally.
Their music began with a delicate weaving of melodies. The interplay built to a climax in a way that did not overwhelm, but enveloped. One was left wondering how they drew the listener into the places in such a subtle way.
Polat had an unusual instrument. It was outfitted with bass strings, giving it a range unique to the instrument. Many times he played bass lines; other times he played chords like a guitar (which blended seamlessly with the piano), but when he played melodies, he invoked the poetry that must come from this instrument. During one solo, his playing became fiery and aggressive; almost defiant against the maelstrom that supported him. And the solo was brought to its conclusion by a complex syncopation, during which time the clarinet slyly slipped in and took the lead.
Von Chossy has a flare for the dramatic, wringing a great many emotions from the possibilities encoded within the compositions. His playing had a quality that invoked the best of the early fusion groups. His style blended chops and wonderful musicality.
Simu was clearly the leader of the group. His laying was lyrical and fluid, and had a marvelous way of bringing out delicacies as well as intensity. His playing reminds me of many of the modern gypsy jazz musicians.
During was lyrical and precise, driving the intricate rhythms in an almost subliminal manner. He had an unusual approach to the daf; playing it on a stand instead of in his hands. His playing was solid and propelled the music in an effortless and irresistible momentum.
The group functioned like a group; nobody overshadowed anyone else. This is an ensemble in every sense of the concept. The music is multidimensional, delightfully unpredictable, and while drawing on many traditions, is subservient to none of them. It is as if the legendary group Oregon had come from Europe and the Middle East. This is a group that you need to hear.