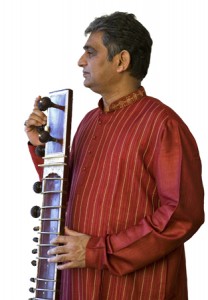 Date: Saturday, September 15, 2012
Time: 2-4.30pm
Venue: Queens Botanical Garden ( 43-50 Main Street, Flushing, NY 11355, Cross Street: Dahlia Avenue,  Subways: 7 to Flushing-Main St – Buses: Q20A, Q20B, Q44 to Main St-Elder Av)
Tickets: $4 Adults, $3 Seniors and $2 Students with ID and children over 3 years of age, (718) 886-3800
www.queensbotanical.org
RSVP by clicking here
In the village setting of an autumnal garden, master artists from the New York Foundation for the Arts' Folk Artist Development Program present the sacred traditions that have been passed on to them through lineage and legacy. Imbued with reverence for the artists' teachers, performances will include a devotional Odissi dance (classical dance form of India) by Mala Desai, a Hindustani classical composition on sitar by Ikhlaq Hussain, powerful songs of praise for elders on the kora (African harp-lute) by Alhaji Papa Susso, and a seasonal improvisation on the kayagum (Korean zither) by Yoon Sook Park. These artists, all masters of their own tradition, have collaborated and rehearsed together for the past few months, learning about each other's traditions, and…having lots of fun in the process! Experience and participate in this spirit of sharing at the enchanting Queens Botanical Garden. All are welcome, including families.