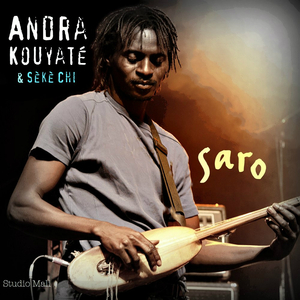 Artist: Andra Kouyaté
Title: Saro
Label: Studio Mali
Genre: Malian traditional and pop music
Release date: July 31, 2012
Recommended by Sohrab Saadat Ladjevardi
In some musically vibrant corners of the world, innovation is the tradition.
So it is in Mali, where the sounds of the Saharan north have mingled with an array of West African traditions in the south. Musicians like Andra Kouyaté show how his homeland's deep and diverse roots are a constant source of innovative inspiration.
The young scion of a profoundly respected griot family, Kouyaté has invented instruments, transformed Malian standards into fresh new pieces, and taken a contemporary ear to traditional sounds, incorporating pop and reggae with the effortless aplomb that has put Mali on the world's musical map.
On his first major international release, Andra and his youthful ensemble Sèkè Chi bring a wide-ranging, aesthetically linked set of songs on Saro with contributions by Amadou and Mariam; by wife and local star Mah Bara Soumano; by older brother Bassekou Kouyaté; by respected Malian singer Ami Sacko; by Harouna Samake the kamele n'goni player for Salif Keita; and by balafon whiz Lassana Diabaté of the Grammy-winning project AfroCubism. The album reveals Andra's stunning ability to embrace not only all the musical possibilities of Mali's many traditions, but also a relentless drive to create and re-imagine the music he loves.
In 1997 Andra began touring with Rokia Traoré with whom he participated on three albums: MOUNEÏSSA, WANITA and BOWMBOI. Andra continued to tour internationally with Rokia Traore for eight years and during this same period played regularly with Toumani Diabaté, Ali Farka Touré, and participated on Fantani Toure's album N'TIN NAARI.
"I am always searching and listening and trying to understand more music. If I only played traditional music in the same way, it would simply be too limiting for me. I want to expand. It's what I was meant to do."
About Studio Mali
Paul Chandler, the director of STUDIO MALI, is an artist, educator and producer living and teaching in Mali since 2003. He is a certified teacher of music and language arts at the American International School of Bamako.
STUDIO MALI is a production company, record label, recording studio and artist management organization based in Bamako Mali. They have produced events/organized projects in Mali for National Geographic, NY Times, Carnegie Hall, USAID, Johns Hopkins/Bloomberg School of Public Health, UNICEF, US Department of State, and BONO's non-profit organization DATA.